Ecotourism and Ecological Culture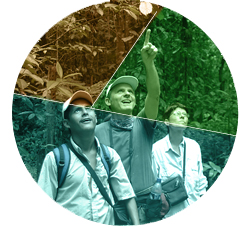 In FUNDAECO we create and support sites and attractions for touristic industry based on natural ecosystems from Izabal: protected areas from the Biological Corridor from the Caribbean of Guatemala.
We promote the preservation of nature, advertising the natural wealth of the country, and promoting a proactive environmental citizenship.
FUNDAECO has given constant cross-sectional support to the development of Izabal as a touristic destiny, diversifying the offer of Eco touristic sites that revalue biodiversity and the good conservation state of natural resources, developing economically viable products and commercially competitive.
FUNDAECO's objective is to reinvest those efforts in more conservation, more development for the hosting communities and better Eco touristic destinations.
SITE NETWORK OF LA COSTA DE CONSERVACIÓN
FUNDAECO, as co-manager of 5 protected areas from Izabal and owner of many Eco tourism sites in the region, has developed an Eco tourism products Network represented under a unique mark "LA COSTA DE CONSERVACIÓN".
All products of LA COSTA DE CONSERVACIÓN offer an experience and unique destination, based in five (5) protected areas, environmental interpretation and social development of the hosting communities and, at the same time, guarantee quality touristic service provision.
The products of LA COSTA DE CONSERVACIÓN are based on a direct contact with biodiversity inside the protected areas and contact with the community, and guarantee that your visit:
Supports the conservation, through an Ecological Footprint payment that directly contributes to the self-sustainability of protected areas that are visited
Will increase your social conscience through environmental interpretation
Supports sustainable development of the community, because all our products and services guarantee the participation and income, and increase the capacities of our community partners
Promote environmental regulations and operational agreements with your visit
Field Intervention Models from the Program "Ecotourism and Ecological Culture"
Planning, design and development of Ecotouristic Products
Planning, design and development of Ecotouristic Sites
Marketing and Sales: "The Conservation Coast"
Financing Fund of Eco tourism SME
Tours for VIP's (members of the Congress, benefactors, officials, cooperating partners)
Camping and Hiking Development
Adventure Competition

Click on the images to know more about sites and eco touristic attractions